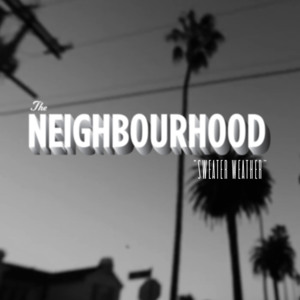 "It's too cold for you here, now, so let me hold both your hands in the holes of my sweater".
It's a pretty cutesy line from LA's newest hipsters, whose mystique keeps our attention solely on their music. Sweater Weather follows the release of Female Robbery in anticipation of the quintet's debut EP 'I'm Sorry' released in May.
The Neighbourhood operate in a post-Lana world where retro is king - from the slide guitar sound, to the black and white videos (Female Robbery's Hitchcockian imagery) and the final third of Sweater Weather that is more than a little suggestive of Chris Isaak's Wicked Game. But this being 2012, that's not all. It all begins with a pounding hip hop beat and the rhythms of the vocal delivery border on rap. It's an irresistible and hypnotic fusion of styles that's utterly 'now'.
It's the lyrics that tug at the heartstrings most though. Sexually-charged lines like "No shirt. No blouse. Just Us" depict teenage love with perfect economy of words. That central chorus lyric and its catchy melody are key though. Who says cool can't be charming?

5/5

Listen: Sweater Weather is released on the band's debut EP 'I'm Sorry' coming in May.