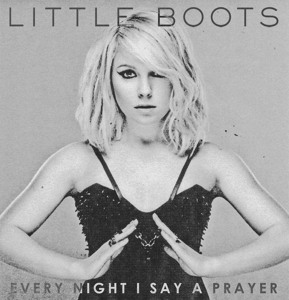 Little Boots has always been caught between catchy pop chart success and credibility as a dance artist. These two ends of the spectrum are epitomised by the electro-pop of debut album 'Hands' and last year's Shake.

At last, with Every Night I Say A Prayer, she's struck a glorious balance. The production has a real 90s flavour (ironically enough for its "I can see into the future" chorus line), all whirling synths and syncopated basslines before coming together for a punchy, memorable chorus. Vocally, Hesketh sounds very Madonna-esque which suits the retro feel of the track and it's replicated by the monochromatic video. It's equally at home on dancefloors and on the radio, with the brilliant electro-funk Tensnake remix proving the track's crossover appeal.

With an album set for release later this year, the future continues to look bright for Little Boots. Welcome back.

4/5

Listen: Every Night I Say A Prayer is available now.

Watch: Little Boots has a number of upcoming tour dates in Europe and America.