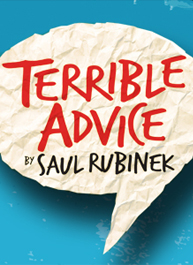 Sometimes, despite the best of intentions, friends don't always say the right thing and we have to learn to take their words with a pinch of salt. Sometimes the advice we receive has a positive outcome; other times, it has disastrous consequences.
This is the premise of Rubinek's first play, as premiered at the Menier Chocolate Factory. Set in America, Stanley is having relationship problems with Delila and seeks advice from best mate Jake, himself married to Hedda. Yet Jake harbours a secret that may have influenced the advice he gives, altering the relationships irrecovably. But for better or worse? The ending is infused with ambiguity that leaves the audience with mixed emotions, drawing a fine line between pessimism and brutal honesty. The latter is key to the play - it's a frank exploration into human relationships. The early scenes are filled with amusement and explicit discussions, though as a whole there was less humour than anticipated. Instead, this was a dark portrayal, the audience equally laughing and viewing themselves through a microscope.
Appropriately, the acting was naturalistic and believable. The talent behind the production was exceptional, with Frank Oz at the helm (best known for his voice work on the Muppets, Sesame Street and Yoda from Star Wars), Scott Bakula (Quantum Leap, Star Trek) and Caroline Quentin (Men Behaving Badly, Jonathan Creek) in the cast, and Rubinek himself well known as Daphne's fiance on Frasier. The acting was superb by all, Quentin as Hedda especially proving she can switch from comedy to anger and pathos with ease, whilst Andy Nyman shone as the tormented and naive Stanley. The production too was slick: scene changes highlighting characters in spotlight and using rock and roll music to set a suitable mood.
In the words of Rubinek himself: "Scary. And funny."
4/5