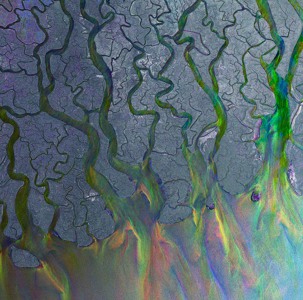 After winning the 2012 Mercury Prize last night, there's no better time than now to have another look at Alt-J's 'An Awesome Wave' for anyone who missed it on its release back in May. Is it a worthy winner?
Art-school educated, the polite four-piece band have created an artistic and erudite album. Mathematics certainly plays a part in their sound – for a start, their name refers to the Mac keyboard short-cut for the Greek letter 'delta' (Δ) used in equations to denote change. And only this band could write a love song called Tessellate, the chorus of which opens with the line "triangles are my favourite shape". Yet geometry extends to the production. Everything about 'An Awesome Wave' feels meticulously planned and precisely crafted; the textures of guitar lines, folk harmonies and percussion creating a clean sound.
Comparisons are frequently made to Radiohead, but only insofar as Alt-J are another avant-garde indie-rock band. The predominant sound is of guitars and Joe Newman's weird crooning vocals, textures chopping between sparse simplicity and lush ambience inflected with electronica. They may flirt with pop melodies (such as single Matilda – arguably a lowlight of the album), but ultimately the band linger in the alternative end of the musical spectrum. Far from the album's title, this is mostly a gentle and relaxed ride that doesn't always excite, despite the band's idiosyncrasies.
Yet they are more than capable of exciting – quite literally in the case of Fitzpleasure, a song that describes penetrative sex with the line "your snatch fits pleasure, broom-shaped pleasure, deep greedy and Googling every corner". For all their mathematical precision, there's no lack of feeling. The yearning melodies of Dissolve Me and its catchy opening riff strike a balance between fidgety restlessness and relaxed calm, whilst the middle eight of aforementioned Fitzpleasure blooms into a lush wash of guitars punctuated by a punchy drum fill. Bloodflood is music to lie back and utterly lose yourself in. Subsequent track Taro provides an exotic contrast with its tabla drums and bhangra melodies, even if the lyrics make little sense.
So, is 'An Awesome Wave' the best British album of the year? Jessie Ware would have been Gizzle's choice, but Alt-J are certainly deserving winners, delivering a unique and artistic album of gently beautiful (if at times slightly bland) songs. As we're commanded on Bloodflood: "Breath in, exhale" and let the wave wash over you.
Listen: 'An Awesome Wave' is available now.
Watch: Tickets have just gone on sale for the band's headline gig at Brixton Academy next year.