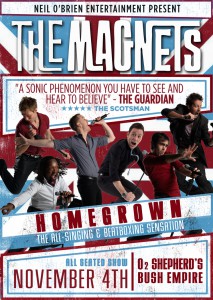 Since Glee, the popularity of a capella groups has soared – not least American five-piece the Pentatonix. Yet this British all-male, all-singing, all-dancing group released their debut album back in 2001. This performance at the Shepherd's Bush Empire was the group's biggest headline gig and a key leg on their current tour.
The tour, entitled 'Homegrown', shares its name with the guys' latest EP of all British songs, most of which were performed amongst their substantial back catalogue. These included a huge range of pop, jazz, barbershop and rock tracks, from Madness and Shirley Bassey to Florence + The Machine, Rage Against The Machine and a carnival/rave version of Adele's Rolling In The Deep. The more popular songs were certainly more appreciated by the audience, but the guys' original arrangements were always musically complex and performed in note-perfect and unique renditions. The encore saw the guys piece together a history of British pop music as selected by the audience that cleverly linked different genres and songs for a finale that undoubtedly left the audience smiling.
Described as a "six-man sound machine", the guys' voices blended beautifully in rich jazz harmonies, as well as sharing the lead. The balance wasn't always quite right, but this was more of a sound engineering issue than the guys themselves – just have a listen to their recordings to hear their voices melting as one. Yet to do that would deny you the pleasure of their on-stage charm and simple yet effective choregraphy. Fancy footwork and even chair dancing only added to, rather than distracted from, their performance. The high, reedy and rasping vocal of Steve Trowell really stood out, whilst the rhythm section of Fraser Collins on bass and the beatboxing Andy Frost provided a rock solid foundation. Frost even performed a virtuosic solo of varying sounds, beats and tonal qualities that was a true vocal tour-de-force.
A boy-band with a difference, The Magnets are an incredibly talented bunch who perform with impressive musicality and bring a sense of cool to a capella singing.