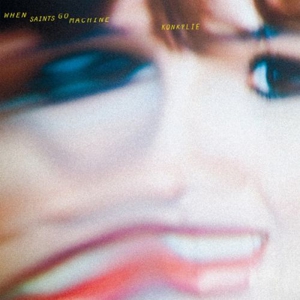 In the dark realm of Northern Europe it's late at night, stars reflecting off the glistening snow. And in the cold this song is played as you dance hypnotically in a drunken haze, your mind slowly sinking into the music.
Hailing from Denmark, When Saints Go Machine are another synth-pop band from Scandinavia but with a real dark edge. If Hercules & Love Affair had an evil twin, this would be it - not least for singer
Nikolaj Manuel Vonsild's weird falsettto vocal, reminiscent of Antony Hegarty. Their album, 'Konkylie' (pictured), is at once hauntingly medieval yet brimming with gothic futurism: from hymnal ambient opener Konkylie, to the synth-pop Kelly and string-based closer Add Ends. Church organs and orchestral strings combine organically with mechanical synths, creating an almost fantastical, timeless quality. It's Church and Law that really strikes though, its majestic intro giving way to deep, percussive synths and arresting syncopated rhythms. It's beautifully and subtly constructed, Volsild's voice calling out to your soul like a ghost from an archaic, distant past. I cannot recommend this track (and the album as a whole) enough.
5/5