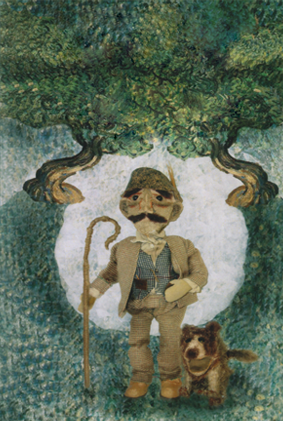 As a reviewer, it's easy to feel self-conscious making notes during a show. Yet with The Man Who Planted Trees there was no need to worry – so spellbinding was the storytelling that I never dared put pen to paper.
Fringe regulars, Puppet State Theatre Company return to tell the allegorical tale of Elzéard Bouffier – the titular man – based on a book by French author Jean Giono. The story is of a shepherd (and his dog) who single-handedly re-forested a desolate region of France during the early twentieth century. Through two world wars and political strife, Elzéard Bouffier kept on planting trees to spread joy across the land.
The tale is a simple one, but is told fantastically by performers Richard Medrington and Rick Conte. The use of puppets and props enhance the story, bringing rural France to life in creative fashion. The result is a sensory overload – simple visual effects give the impression of an ever-growing forest; the sound of the wind howling across the landscape fills our ears; and even the smells of the forest waft over the audience. The beautiful, rustic folk style is well suited to the story and is accompanied by enchanting guitar music.
Moreover, it's the actual storytelling that shines through. Medrington's delivery is lucid, gripping the audience from start to finish. Conte's witty portrayal of the loveable 'dog' is the obvious highlight of the show, with cute and comedy moments aplenty. The banter between the pair is infectious, frequently breaking the fourth-wall to create intimacy, drawing the audience in. It's impossible not to emotionally invest in this show, which brought a tear to the eye of even this twenty-something reviewer.
A magical children's show, The Man Who Planted Trees is essential viewing for kids and big kids alike – "we know and now so do you".
Written for Broadway Baby. For more reviews, visit their website here.