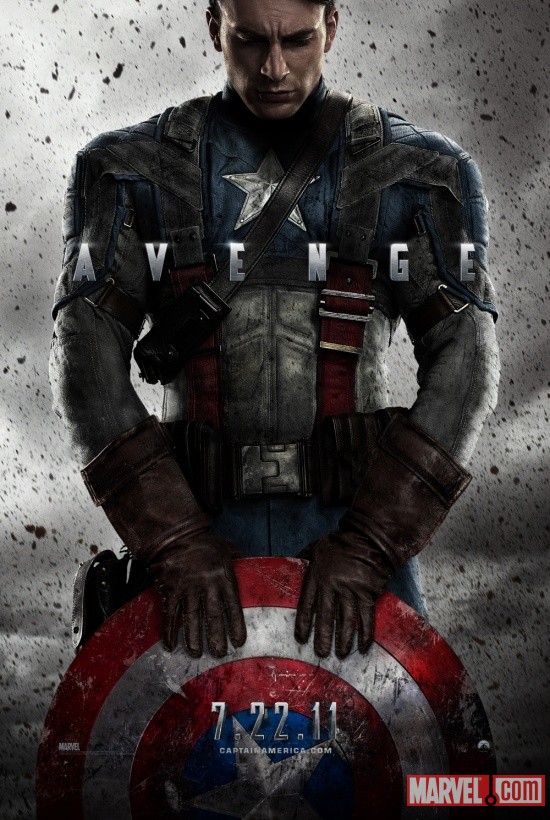 Captain America is a perfectly perfunctory blockbuster. A one dimensional good vs evil story, with one dimensional characters and a few explosions. It's essentially a film about the triumph of the underdog. Steve Rogers (Chris Evans) is a weak, scrawny fella determined to fight for the US army in World War II, despite his stature. When he's inducted into a secret programme he finally gets his chance - injected with chemicals he turns from Mr Skinny to Mr Men's Health a.k.a Captain America, all cleverly foreshadowed in the early stages with tiny directorial touches.
The film, unlike the Captain, is utterly flawed. There's a lot of exposition to wade through at the start and the action, when it finally gets going, is far too reliant on CGI - the shield tossing looks fake and "Skinny" Rogers is ridiculous looking. The predictable script, like the acting, is laughable and where the bad guy is often the most engaging character, Hugo Weaver's red faced villain Schmidt is under-characterised. Dominic Cooper's Q-like Stark has a wavering accent and Hayley Atwell's Peggy Carter goes from feisty officer to disappointingly wet sap. Then the twist at the end hits like a crowbar - a flimsy segway into the upcoming Avengers film. What mostly grates though is the whole notion that WWII was won almost single handedly by a man in tights with a funny shield. It smacks of American arrogance that won't sit well with European audiences.
The key problem is with the Captain himself, who is somewhat lacking in the superhero department. Inhumanly flawless, he has no real superpower, besides a lot of muscle and American jingoistic bombast. Infiltrating a Nazi base with a brightly coloured shield is hardly the most subtle of approaches. The film is essentially based in reality, so the slight fantasy elements and the super technology seem wildly out of place. It lacks the dark grit of Batman and the twisted nature of his psychotic nemeses, or the cool and extravagant superpowers of the X-Men or Spiderman. Even compared to the other Avengers, the Captain lacks the witty charm of Iron Man, the frightening dichotomy of the Hulk, or the fantastical mythology of Thor. Instead, Evans' Captain is a bore. Good luck standing out in the upcoming Avengers film.
2/5